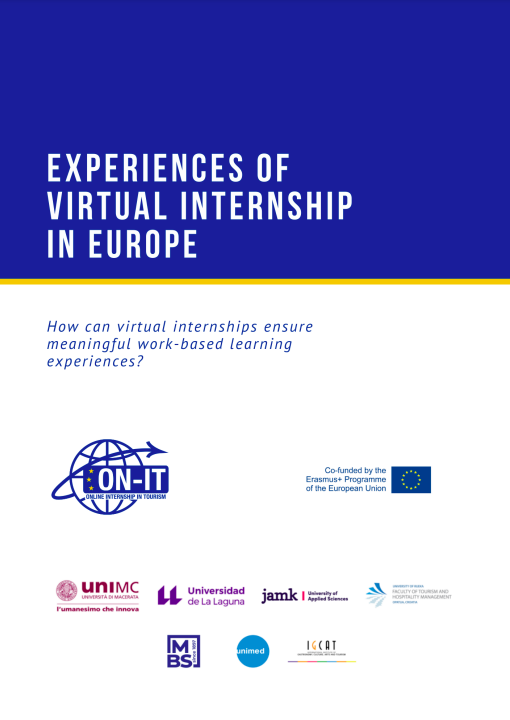 EXPERIENCES OF VIRTUAL INTERNSHIP IN EUROPE
How can virtual internships ensure meaningful work-based learning experiences?
During the COVID-19 outbreak, online internships were outlined as a meaningful alternative to on-site training activities and an opportunity for a big cohort of students to gain professional experience despite the severe restrictions imposed by the pandemic, particularly hindering international travel.
In this report, the ON-IT consortium presents the results of a mapping activity of online internship experiences provided by EU universities during the COVID-19 lockdown. The case-studies considered involve University teachers supervising virtual internship; students having completed online internships; University internship office or career centre administrators; and company tutors or supervisors in charge of overseeing the trainees.
Virtual internships give students the possibility to work in an international context, without the need for excessive technical and financial resources. At the same time, they allow them to collaborate with third sector entities in general and specifically with international NGOs. Therefore, online internships constitute a great opportunity for the internationalization of higher education institutions and for increasing their contribution to the UN Sustainable Development Goals.
However, much remains to be done to improve the relevance and the efficiency of virtual internships. Therefore, this report includes a set of recommendations aimed at advancing the online work-based learning offer of higher education institutions.
This report is an essential reading for all the actors involved in the online internship experience: students; university administrative staff; university tutors; company tutors; and anyone interested in advancing in the design and implementation of meaningful online internships in higher education.
As a further step, the ON-IT project will put this analysis to use to define guidelines for quality criteria, processes and rules for the implementation of effective online work-based learning models in higher education, and we are eager to hear comments from others with insight or interest in this area.