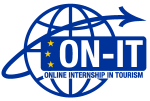 The ON-IT project aims to develop a guidance framework and practical tools to design and implement quality online tourism internships in higher education. By acknowledging the pressing challenges posed by the digitalisation of the labour market, the project focuses on providing advice on administrative procedures, tailored learning resources and essential skills development to meet the needs of all the actors involved in the online internship experience – namely, students, university administrative staff, university tutors, and company tutors.
During the COVID-19 pandemic, the effort of traditional, F2F-based universities across the EU to organise a quality online learning offer in a very short time-frame has been remarkable, in terms of infrastructural investment, teacher training, re-designing of courses, as well as revision of admin procedures.
However, work-based learning – namely, internships and traineeships – has remained one of the most critical points, despite being a fundamental part of the students' journey toward professionalisation.
While most companies continued their activity through remote working, or by applying mixed arrangements (e.g. alternating days in the office with remote working), many universities struggled to set up online internship procedures, tutoring, guidance and even placements for their students.
Remote working, together with several other forms of agile working, is likely to become the norm even in the post-pandemic era and at least for many graduate jobs. However, it requires specific infrastructures and procedures, as well as different competences than working in place. 
Most universities do not have reference guidelines and tools to design, manage and evaluate online work-based learning experiences. At the same time, many companies are available to host interns remotely, but struggle in managing them as online working requires strong self-organisational skills.
Therefore, to increase the employability of their students, universities and education and training institutions in general need to embrace digital transformation and integrate into their offer the development of competences for agile and remote working. 
Raising awareness about the future of work will be a crucial task for institutions in the education sector, together with developing students' ability to anticipate, manage, and deal with constantly changing work scenarios.
The ON-IT project aims to develop reference guidelines, procedures, tools and resources to design, implement and evaluate meaningful remote internships in higher education. 
Starting from both a mapping of experiences from EU institutions and a review of current guidelines for quality internships, the project consortium works on the designing and testing of remote work-based learning models in order to provide:
Advice on administrative procedures, especially for those institutions used to organise only or mostly F2F internships. 
Relevant learning materials for all the targets involved – students, university teachers/tutors, administrative/management staff, company tutors. 
Effective skills development for remote working, to increase students' employability and professional opportunities in a labour market shaped by digital transformation.
In order to provide guidance for successful online work-based learning experiences, the ON-IT project will develop:
A mapping of existing practices on how higher education institutions reacted to the need of implementing remote internship and traineeship provisions;
A guideline document, as a reference to organise online internships and traineeships effectively;
Actual internship case studies to test the guidelines and identify relevant learning needs; 
Learning resources and learning opportunities (webinars, short courses) for all target groups involved.
Ultimately, the ON-IT project will:
Improve the work-based learning offer of higher education institutions;
Equip higher education students with employability skills, particularly those related to remote working;
Increase integration between academic bodies and support services;
Enhance the capacity to embed the world of work into academic curricula;
Advance and harmonise European policies in higher education.
As a piloting action to test the ON-IT guidelines and tools in real settings, the project focuses on the field of tourism, given that it represents a significant share of the national GDP in the countries of the consortium and it has been one of the most affected sectors by the pandemic. 
Graduate jobs in tourism are mainly offered in areas that have been heavily impacted by digital transformation, such as place and destination management, marketing, tour design, or cost revenue. For this reason, and for the fact that the field will most probably be redesigned by digital technologies in the upcoming years, it is crucial to ensure that tourism students and graduates have access to consistent work-based learning experiences. 
However, the ON-IT project aims at providing results that can be easily transferred to any other field.